"We are not enemies, but friends. We must not be enemies. Though passion may have strained, it must not break our bonds of affection. The mystic chords of memory will swell when again touched, as surely they will be, by the better angels of our nature." –Abraham Lincoln, March 1861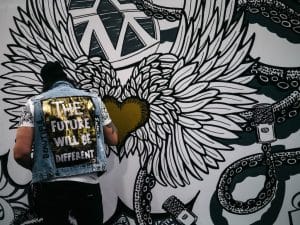 The battles of the Civil War are here again, via President #45.  What power he has over us, we salivate like Pavlov's dogs the minute he stirs the pot with another tweet or statement. We argue with family, friends, and strangers—-what a waste of energy trying to prove we are right.
It's time to take a deep breath to open our hearts and place our focus on The Christ Child, Christmas, Hanukkah, Kwanzaa, Buddha or Yule. It's time to start listening to our "Better Angels" and take inspiration from their message of unity, kindness, and friendship.
I invite you to take a few minutes and think about what you might do during the next four weeks to make someone's life a little better by being a "better angel." Is it the single woman who needs wood split for heat, a batch of cookies for your neighbors, a gift for a homeless child, a donation of food at your local food bank, or the time to go to the store for someone who doesn't have the means to get there.
During this season, I make it yearly practice to purchase toiletries at the dollar store, put them in zip lock bags and give them to the homeless in my community. I know that I am an angel in their eyes. It is a small generosity that shows someone that I care.
Many opportunities cross our path daily so just listen. It is the kindness of opening our hearts to notice others, their challenges and to make a difference in their world that ultimately warms our own hearts and brings us inner joy.
Let's try turning off our electronic version of life so we can listen to our "Better Angels" and be uplifted by this moment, this day, this season!
This month, I am offering a wonderfully beautiful gift for yourself or a loved one: Fleur Calling the Angel Spray for just  $14 including & shipping.
May Your Angels Bless You Abundantly with the Spirit of Light and Love this season and all-ways!
Maggie